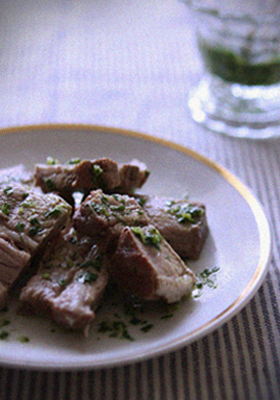 Slowly simmer a pork block with jasmine tea. It makes the pork meat tender and gives a little bit of jasmine fragrance. Also cooking meat in boiling water helps to reduce excess fat in the meat.
This fresh and slightly tangy coriander sauce brings a bright flavour for winter days.
——————————
— Jasmine Tea Pork with Coriander Sauce (serves 2) —
400g pork shoulder block
1 tablespoon jasmine tea leaves
1 teaspoon salt
1500ml water
*****
— for the coriander sauce —
2 tablespoons coriander, finely chopped
1 tablespoon sesame oil
1 tablespoon fish sauce
2 teaspoons fresh lemon juice
1 clove garlic, minced
2 teaspoons ginger, finely chopped
——————————
Pour 1500ml water in a deep pan and bring to boil.
Put the salt and jasmine tea leave in the boiling water, put the pork shoulder block and reduce heat to low.
Simmer the pork block about 40 minutes (make sure the pork block is always covered with water throughout simmering. Add water if necessary).
Remove the pork block from pot and cut into bite size pieces.
To make the coriander sauce, mix all ingredients of the sauce in a small bowl.
Serve the pork with the coriander sauce.