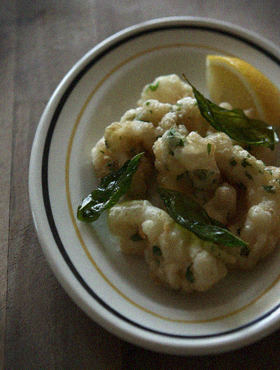 This is not a traditional, but tasty and refreshing basil flavoured tempura.
It's not difficult to make light and crispy  tempura at home, if you know some tips;
1. Use ice-cold water for the butter.
2. Don't over mix the butter.
3. Right oil temperature (170C/340F).
By the way, I like deep-fried basil leaves. Light though the leaves and it's pretty.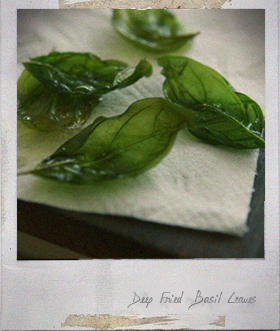 ——————————
— Basil Tempura Squid (Serves 3-4) —
300g squid tube, cleaned
100g plain flour
1 small egg
150ml ice-cold water
1/2 teaspoon baking soda
1/2 teaspoon salt
20 basil leaves (10 leaves for the butter and the other 10 for garnish)
Lemon wedges for serving
Vegetable oil for deep frying
——————————
Wash the squid tubes and pat dry with paper towels.
Cut the squid tubes into bite size and lightly dust with some flour.
Heat the deep frying oil to 170C/340F.
Wash the 10 basil leaves and pat dry with paper towels, deep-fry the basil until crispy.
Finely chopped the other 10 basil leaves, set aside.
Beat the egg in a bowl and mix with chilled water.
Place the flour, salt, baking soda and finely chopped basil leaves in another bowl, mix well.
Add the flour mixture into the egg mixture bowl, and very lightly fold in with just 5-6 strokes (the butter should be loosely mixed, but lumpy).
Dip the squid pieces one by one into the butter and deep-fry in the 170C/340F oil until golden.
Garnish with deep-fired basil leaves, serve with the lemon wedges and sprinkle salt if you wish.