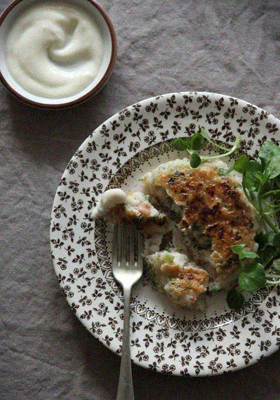 This is an easy, low-fat prawn cake. Just mix everything together, pan-frying and ready.
It isn't used mashed potatoes or eggs as a binder. Great for a big prawn fan like me.
Shrimply!
——————————
— Prawn Cakes with Lemon Yogurt Dip  (Serves 2)—
160g raw prawns, peeled
2 tablespoons spring onion, finely chopped
1 teaspoon ginger, finely chopped
2 tablespoons flower
2 tablespoons corn flower
1 tablespoon white wine
1/4 teaspoon salt
A pinch of black peper
*****
— for the Lemon yogurt dip —
3 tablespoons plain yorgurt
2 tablespoons mayonnaise
1/2 tablespoons lemon juice
A pinch of salt
——————————
Coarsely chop the peeled raw prawn.
Place all the ingredients (prawn, spring onion, ginger, flower, corn flower, white wine, salt and paper) in a medium bowl and mix well with a hand.
Heat some oil in a frying-pan on a medium heat.
Wet your hands with water and shape the mixture into 2 balls. Put the mixture balls on a frying-pan and flatten each ball to make round flat cakes.
Pan-fry for 3 minutes on each side, letting them get golden and cooked through.
Mix well all the ingredients of Lemon yogurt dip in a small bowl.