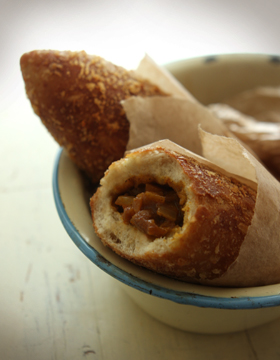 I saw a man who looks exactly like "Curry-pan-man" in the street yesterday.
"Curry-pan-man" is a famous cartoon hero in Japan. His head is made from curry filled bread. He is hot-tempered and very hot curry sports from his head when he fight the enemy.
I was obsessed with curry bread after I saw him, and decided to make it.
This is a very popular food in Japan (as it became a hero character), it's a filling snack and you can quickly get enough energy to be like Curry-pan-man.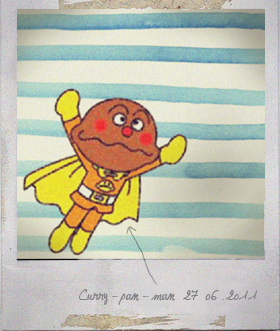 ——————————
— Curry Bread (6 pieces) —
— for filling —

200ml curry sauce (your favourite sauce)
1/2 onion, finely chopped
1/2 carrot, finely chopped
1/2 egg, beaten
Some breadcrumbs
Vegetable oil for deep frying
*****
— for dough —
220g plain flour
4g dry yeast
1/2 egg, beaten
20g butter
1/2 teaspoon salt
20g sugar
Some vegetable oil
——————————
— to make filling —
Heat the vegetable oil in a frying-pan oven medium heat, add the finely chopped onion and carrot and stir-fry until cooked. Add the your favourite curry sauce and make thick curry.
(*you can use minced meat instead of vegetables if you like)
*****
Place the dry yeast and a pinch of sugar in a bowl, mix in 100ml lukewarm water. Set aside in a warm place for 5 minutes, until bubbles appear on the surface.
Place the flour, beaten egg, salt and sugar in a different bowl, add the yeast mixture and mix well by hand.
Transfer the dough to a floured surface board and knead for about 10 minutes.
Place the dough in a lightly oiled bowl and roll to coat. Cover the bowl with cling film and and let rise about 40 minutes in a warm place.
Punch down the dough and divide it into 6 pieces and shape into balls.
Roll out each piece into a flat round. Put a large spoonful of curry in the center. Gather up the opposite edges of dough and pinch to seal well. Repeat this for the other pieces.
Coat all sides of the bun with the beaten egg, then coat with breadcrumbs.
Lay the buns on a tray, leave in a warm place for about 20 minutes.
Heat the oil to 340F, and deep-fry the buns until light golden on both sides, place it on kitchen paper to remove excess oil.