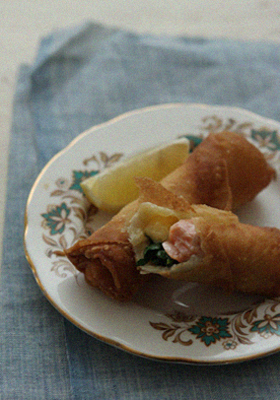 Usually, spring rolls are used different type of dough sheets.
But, Filo pastry sheets works very well for this salmon spring rolls.
Just a little bit careful when you handle the pastry sheets, because it's a fragile.
Be gentle, and then, here is the delicate textured nice spring rolls.
——————————
— Salmon & Spinach Spring Rolls (6 rolls) —
1 piece salmon fillet, boned and skinned
80g Cheddar cheese
100g baby spinach
1 teaspoons soy sauce
A pinch of salt and pepper
6 sheets of filo pastry
Lemon wedges for serving
Cooking oil for deep-frying
——————————
Season the salmon fillet with salt and pepper and slice into 6 sticks approximately 3 inches by 1/2 inch.
Slice the Cheddar cheese into 6 sticks (same size as the salmon sticks).
Add the spinach for a large pan of slightly salted boiling water, cook 15 seconds. Drain the spinach in a colander, cool down and squeeze out the excess water. Sprinkle the soy sauce on the spinach and mix well.
Lay out one filo pastry sheet with a corner pointed toward you. Place a salmon stick, a Cheddar cheese stick and 1/6 of the spinach on the filo sheet.
Roll up the filo sheet the corner facing you. When half way, fold left and right corners toward the center and continue to roll. Brush a little bit of water on the final corner to help seal the spring roll.
Heat the oil to 170C/340F and deep-fry the spring rolls until golden brown. Drain on kitchen paper.
Serve with the lemon wedges.