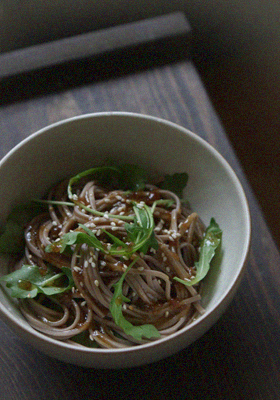 It's a Japanese tradition to eat soba noodles on New Year's Eve.
Soba noodles symbolize longevity because it's physically long. And, Soba noodles are easy to bite and cut off, so it's considered to sever any hardship that have happened during the year.
I was thinking it's a strange custom.
But when I looked up the nutrition of buckwheat (the ingredients of soba noodles), I started to think that the custom might make sense.
Buckwheat is very high in rutin, an essential nutrient that is not found in other grains. Rutin is powerful antioxidants that fight free radicals which are responsible of some of the major health problems such as cancer, arteriosclerosis, strokes, and age-related senility. Also, buckwheat is rich in vitamin B1 making them a good option got those recovering from stress and wanting to regain a decent energy level.
Good. I eat soba noodles today, wishing good health and not to carryover any bad things to 2011.
——————————
— Soba Noodle Salad (Serves 2) —
160g Soba Noodles
40g rocket
Some sesame seeds
*****
— For the dressing —
1/4 onion
5 tablespoons balsamic vinegar
5 tablespoons extra virgin olive oil
2 tablespoons soya sauce
1 tablespoon fresh lemon juice
A pinch of salt
——————————
To prepare the dressing, peel and grate the onion, place the grated onion, balsamic vinegar, olive oil, soya sauce and lemon juice in a bowl and mix well. Season to taste with a pinch of salt.
Cook the soba noodles in large pot of boiling water until cooked (follow the package directions). Drain and rinse well under cold water and drain again.
Transfer the soba noodles to large bowl. Add the dressing and toss to coat.
Add the rocket and toss gently.
Sprinkle with the sesame seeds and serve.