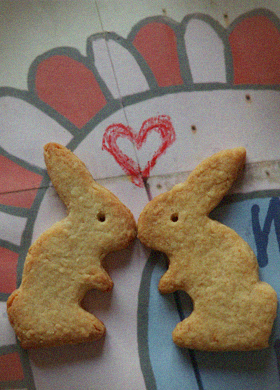 This is my favourite sesame cookie.
Light & crunchy texture and the subtle nutty flavoure are so addictive.
I feel like a happy bunny.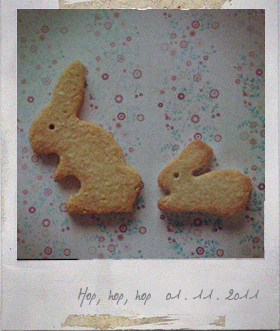 ——————————
— Sesame Cookies —
50g sesame seeds
140g plane flour
40g ground almonds
70g sugar
110g butter, softened
1 egg york
——————————
Roast the sesame seeds in a dry frying-pan over medium-low heat until golden.
Grind the roasted sesame seeds roughly in a mortar and pestle.
Combine the flour, ground almond and ground sesame seeds in a bowl. Set aside.
Place the butter and sugar in another bowl and beat together until smooth, add the egg york and mix well.
Add the flour mixture into the butter mixture and mix to form a smooth dough. Wrap in cling film and chill in the refrigerator for 2 hours.
Preheat the oven to 340F/170C.
Roll the dough out on a floured work surface to about 0.3 inch. Cut out your favourite shapes and place on the baking sheets.
Bake for 15 minutes until lightly golden. Cool on a wire rack.