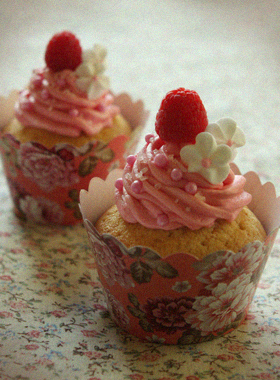 Raspberry & White Chocolate Cupcakes.
As sweet as my cat.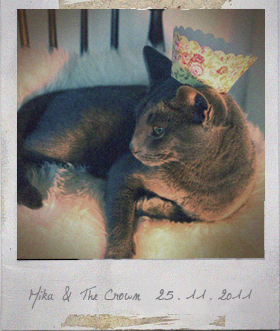 ——————————
— Raspberry & White Chocolate Cupcakes (12 large cupcakes) —
100g butter, softened
100g caster sugar
2 eggs
80g white chocolate, melted
50ml milk
150g plain flour
1 teaspoon baking powder
24 fresh raspberries
*****
— for the raspberry buttercream —
100g butter, softened
150g icing sugar
40g fresh raspberry
*****
Some raspberries for decoration
——————————
Preheat the oven 340F/170C.
Place the butter and sugar in a large bowl, beat together until light and fluffy.
Add the eggs one at a time and beat well.
Add the melted white chocolate and milk, mix everything.
Sift together the flour and baking powder into the bowl and fold into the mixture.
Line a 12 hole muffin tin with paper cases. Place 2 fresh raspberries into each cup. Spoon the mixture into the paper case.
Bake for 20-25 minutes until lightly golden. Transfer to a wire rack to cool completely.
To make raspberry butter cream, Place the raspberry in a small sauce pan with 1 tablespoon of water and cook over medium heat and mush with a fork. Pour the raspberry sauce through a fine mesh strainer to take out the seeds.
Place the butter in a bowl and beat until light and fluffy. Sift in the icing sugar and beat together, add the raspberry sauce and mix well.
Place the buttercream in a piping bag and pipe the buttercream on to of the cupcakes and decorate as you like.