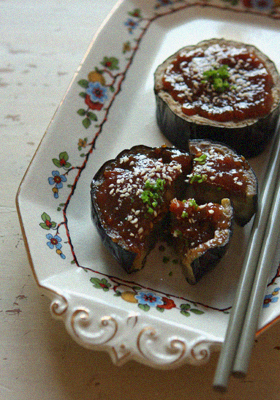 This is a classic Japanese dish.
The combination of sweet & savoury miso sauce and silky textured aubergine is just so delicious.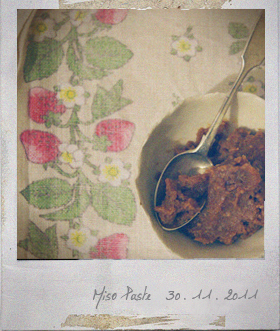 ——————————
— Deep Fried Aubergine with Sweet Miso (serves 2) —
1 tablespoon sesame seeds
1 aubergine
Oil for deep frying
3 tablespoons miso paste (mideum-coloured)
3 tablespoons granulated sugar
1&1/2 tablespoon sake (rice wine)
Some chives, finely chopped
Roast the sesame seeds in a dry frying-pan over medium-low heat until golden. Grind the roasted sesame seeds roughly in a mortar and pestle. Set aside.
Place the sake in a small saucepan and bring to a simmer over medium heat for about 1 minute. Reduce the heat to low, add the miso paste and sugar , stirring occasionally until the sauce is smooth and thickened.
Cut the aubergine into 1 inch thick slices.
Heat the deep-frying oil to 340F/170C, deep-fry the sliced aubergine for about 2 minutes each side until the aubergine becomes tender. Drain the excess oil on kitchen papers.
Spread the sweet miso sauce on the top of aubergine, sprinkle with the grounded sesame seeds and garnish with the chopped chives.