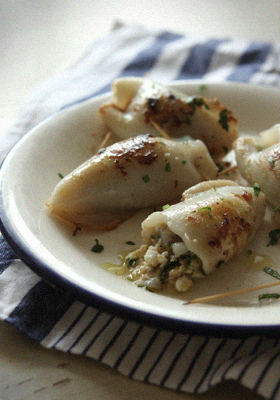 Happy New Year.
If you feel still tired after New Year's drinking like me, this is the perfect dish.
Squid contains a lot of taurine (amino acid) which reverse liver damage caused by alcohol.
The only thing is, this dish goes well with white wine…
——————————
— Stuffed Baby Squid with Coriander & Feta (serves 2) —
500g baby squid
2 tablespoons bread crumbs
2 tablespoon coriander, finely chopped (leave a little for garnish)
40g feta cheese
1/2 teaspoon fish sauce
1 tablespoon olive oil
Some olive oil for frying
——————————
Cut off squid tentacles, chop into small pieces and set aside.
Clean the squid tubes (remove all inside parts).
Cut the feta cheese into small cubes.
Mix well the chopped tentacles, bread crumbs, finely chopped coriander, fish sauce and olive oil in a bowl, add the feta cheese cubes and mix again gently.
Carefully spoon the mixture into the squid tubes to three-quarters fill the tubes. Fasten the opening closed with a cocktail stick.
Heat some olive oil in a frying-pan over a medium heat and fry the squid for 7-8 minutes, turning occasionally.
Sprinkled with chopped coriander and serve.