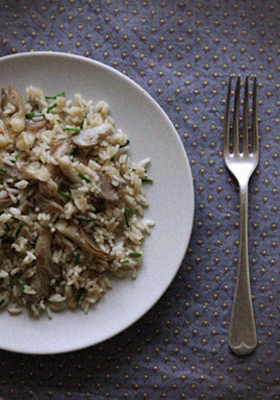 A morning after the rain.
That remind me mushroom hunting. I was often forced to go to a mushroom mountain by my dad when I was teenager (I was born in the country side of Japan). I hated mushroom hunting because I didn't like to get my clothes dirty and I was really fed up with mushroom dishes everyday after the hunting.
But I'm sure now I can enjoy to go to the mushroom mountain and fill up a big bag with full of mushrooms and to be pleased with full-course mushroom meals.
Well, I was obsessed with mushrooms this morning, and I decided to cook a mushroom dish for lunch.
The combination of garlic, butter and soya sauce makes beautiful taste. And I really enjoyed this mushrooms dish.
But, the best mushroom dish I've ever had was that dish after the muddy mushroom hunting.
——————————
— Oyster Mushrooms Fried Rice (serves 2) —
200g uncooked long grain rice
120g oyster mushrooms, tear into pieces
20 stalks chive, chopped
1 clove garlic, finely chopped
1 tablespoon butter
1 tablespoon white wine
1/2 tablespoon soya sauce
1/4 teaspoon salt
A pinch of black pepper
——————————
Cook the rice in a large pot of boiling water until cooked (follow the package directions). Drain and allow to cool (or use leftover trice straight from a fridge).
Heat the butter in a frying-pan over medium-high heat, stir fry the oyster mushrooms and finely chopped garlic.
Pour the white wine evenly over the mushrooms and season with the salt and pepper.
Add the cooked rice into the pan, stir fry about 2 minutes and sprinkle with soy sauce, then sir fry a bit more.
Turn off the heat , add the chopped chives into the pan and mix.