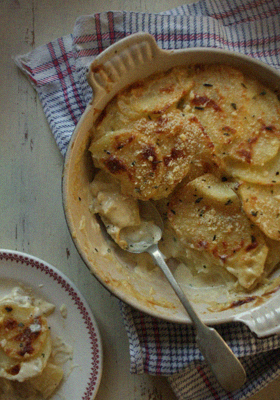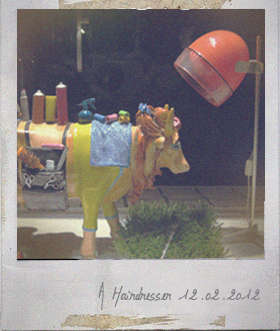 ——————————
— Creamy Potato Bake (serves 2-3) —
500g floury potato (such as King Edward or Desiree)
1/2 onion, thinly sliced
1 clove garlic, finely chopped
1 tablespoon butter
150ml milk
200ml single cream
1/2 teaspoon salt
A pinch of black pepper
2 tablespoons grated parmesan cheese
1 teaspoon fresh thyme leaves, finely chopped
——————————
Preheat the oven to 375F/190C.
Peel and slice the potatoes into thin slices about 1/8 inch thick.
Heat the butter in a large pan, stir-fry sliced onion over medium heat for about 5 minutes until translucent. Add the garlic, stir-fry for further 1 minute. Pour the milk, cream, salt and pepper and heat through.
Place the sliced potato into a pan, add 1 tablespoons grated parmesan cheese and thyme leaves, carefully mix until the potato slices are coated.
Transfer the potatoes in a baking dish. Smooth over the top, cover with foil and cook for 30 minutes.
Uncover and sprinkle with 1 tablespoon of grated parmesan cheese, cook for further 20 minute until tender and golden brown.
§ One Response to Creamy Potato Bake