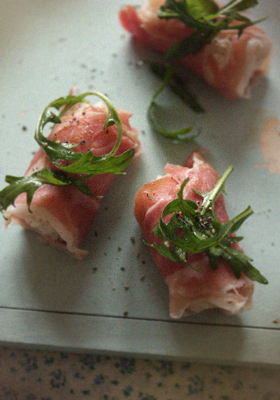 Rice balls called 'onigiri' are one of Japan's favourite comfort snacks.
White rice shaped into balls or triangles, usually stuffed with fish or vegetable fillings and wrapped in nori seaweed.
Portable and easy to eat, much like sandwich in the West.
This is a fusion type of onigiri, and I love them.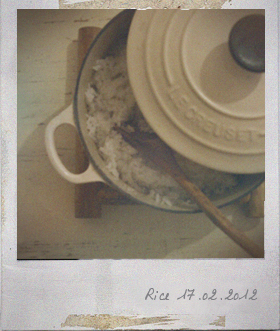 ——————————
— Prosciutto Wrapped Cheese Rice Balls (12 rice balls) —
300g rice (Japanese short grain white rice, or sushi rice)
420ml water
2 tablespoons sesame seeds
40g cheddar cheese
A handful of  wild rocket leaves
1 teaspoon extra virgin olive oil
1 teaspoon balsamic vinegar
12 slices prosciutto
Black pepper
——————————
Rinse the rice in a clod water, changing the water several times until the water runs almost clear.
Drain the washed rice in a sieve and place in a saucepan.
Pour 420ml water in the pan and cover with tight-fitting rid.
Bring to the boil over high heat and let cook for 2 minute. Reduce the heat to the lowest and simmer (always cover the pan with a rid) 15 minute. Remove from the heat, still covered, and leave the pan for another 10 minutes.
Roast the sesame seeds in a dry frying-pan over medium-low heat until golden.
Cut the cheddar cheese into very small pieces.
Mix the cooked rice, roasted sesame seeds and cheddar cheese.
Once the rice mixture has cooled just enough, form it into 12 log-shaped rice balls.
Wrap each rice ball in a strip of prosciutto.
In a bowl, mix together the olive oil and balsamic vinegar and toss the wild rocket leaves.
Arrange the rocket leaves on top of the wrapped rice balls and sprinkle with black pepper.