This is the emergency treatment menu for my facial sunburn.
Plenty of Vitamins :)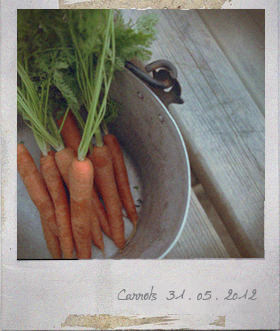 ——————————
— Carrot Fritters with Avocado Yogurt Dip (12 fritters) —
300g carrots, finely shredded
1 onion, grated
100g bread crumbs
2 eggs, beaten
1/2 teaspoon salt
A pinch of black pepper
Vegetable oil for deep-frying
*****
— for Avocado Yogurt Dip —
2 ripe avocado (medium size)
1 clove garlic, minced
1/4 cup plain yogurt
2 tablespoons finely chopped coriander
2 tablespoons fresh lime juice
A pinch of salt and black pepper to taste
——————————
Mix the shredded carrot, grated onion, bread crumbs, beaten eggs and salt and pepper in a bowl. Mix well with a hand.
Shape the mixture into 12 flattened rounds.
Heat the oil to 340F/170C, and deep-fry until golden. Place them on kitchen paper to remove excess oil.
To make the avocado yogurt dip: Peel and stone the avocados. Mash them with a fork until smooth. Mix all the ingredients of the avocado yogurt dip together in a bowl.
§ 2 Responses to Carrot Fritters with Avocado Yogurt Dip"