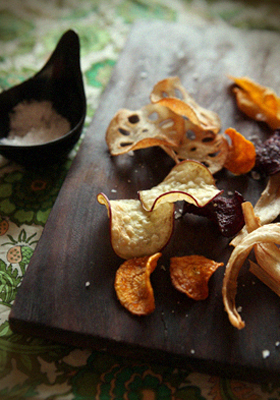 Bright and breezy. A perfect day for making vegetable chips.
The sliced root vegetables and my cat and I, we all bask in the sun today.
Sunshine brings out the natural sweetness of the vegetables,
and these half sun-dried vegetables makes light and crispy chips.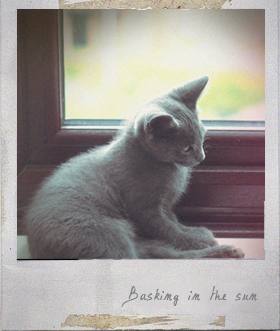 ——————————
— Root Vegetable Chips —
Carrot
Parsnips
Beetroots
Butternut, peeled
Sweet potatoes
Chinese lotus roots
Vegetable oil for deep-fry
Sea salt
——————————
Slice all the vegetables in very thin slices with a mandolin or vegetable peeler.
Wash the sweet potato slices and chinese lotus roots in several changes of water, till the water runs clear of starch. Dry the slices thoroughly on paper towels.
Lay out each slice of all the root vegetables separately on a sheet or tray.
Dry them in sunshine for about 4 hours until half sun-dried.
Heat the vegetable oil to 325F / 160C.
Deep-fry the half sun-dried vegetable slices in batches until lightly golden and crispy (deep-fry each kind of vegetable separately). Drain excess oil on kitchen paper.
Sprinkle with sea salt.