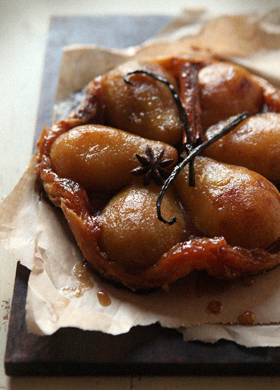 Sweet and warm, a little spice and upside down.
That's what I want in my life right now.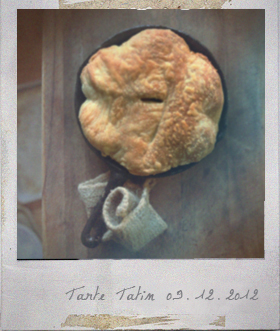 ————————————
— Pear Tarte Tatin (serves 4) —
3 pears
80g butter
80g sugar
1 vanilla pod, split
1/2 cinnamon stick
1 star anise
200g puff pastry
————————————
Preheat oven to 200C / 400F.
Peel, core and cut the pears in half.
Melt the butter in a 8 inch ovenproof frying-pan, add the sugar and cook over a medium heat until golden. Add the vanilla pod, cinnamon stick and star anise to the frying-pan.
Lay the pears, cut-side up, to the frying-pan, then cook in the sauce for 8 minutes.
Roll out the puff pastry on a lightly floured work surface to a a 1/4 inch thick, cut out a 9 inch circle. Cover the pears, tucking the pastry down the sides of the tin and pierce the middle of the pastry disc.
Place in the oven and bake for 25-30 minutes until the pastry is golden brown.
Leave the tart to stand for 5 minutes, then put a large plate over the top of the frying-pan and invert.
Serve with vanilla ice cream.