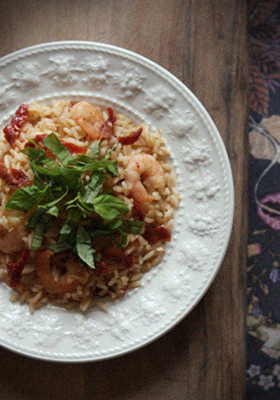 Fried rice is a popular dish of Asian cuisine. It's a simple, no fuss one-dish meal.
This time, I tried to combine Western ingredients and fried-rice method, and it came out very well.
The sun-dried tomato and prawn bring the attractive full, depth flavour, and nice red colour to the fried-rice, and a little bit of red chilli flakes gives a slight kick.
This is a good combination of the Western and Eastern cooking.
*Tip: The best rice for fried-rice is leftover rice that's been lying in the fridge for overnight (it will get rid of excess moisture and easier to separate rice when you fry). You can also use COLD rice, but not freshly-cooked warm rice, it will be too sticky and become like mashed-rice.
——————————
— Sun-dried Tomato & Prawn Fried Rice (serves 2) —
200g uncooked long grain rice, or 460g cooked rice (cold)
150g boiled prawns (medium size)
5 sun-dried tomatoes in oil, drained and sliced into pieces
1 clove garlic, finely chopped
A pinch of red chilli flakes
Salt and black pepper
1 tablespoon olive oil
Some basil leaves for garnish, chopped
——————————
Cook the rice in a large pot of boiling water until cooked (follow the package directions). Drain and allow to cool.
Heat the olive oil in a frying-pan over medium-high heat, add the finely chopped garlic, boiled prawns, sliced san-dried tomato and red chilli flakes. Stir-fry 2 minutes.
Add the cooked rice into the frying-pan, stir fry everything about 3 minutes and season with salt and black pepper.
Garnish with chopped basil.