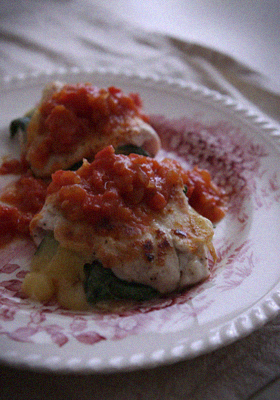 I found a plum tree started to bloom when I opened the window this morning.
Little pink flowers.
I felt a bit spring-like and I decided to use a plate with pink flowers paint on for today's dish.
This classic combination of basil, cheese, tomato and chicken is certainly delicious, and it goes with the plate : )
——————————
— Folded Chicken with Tomato Sauce (serves 2) —
2 chicken breast fillets
4 slices cheese
12 leaves basil
Some salt and black pepper
Some flour
Some olive oil for flying
*****
— for the tomato sauce —
2 tomatoes
1/4 onion
1 clove garlic
1 bay leaf
1 teaspoon chicken stock powder or cube
1 tablespoon olive oil
——————————
To make the tomato sauce: finely chop the onion, mince the garlic and chop the tomatoes into small cubes.
Heat the olive oil in a small pan, add the chopped onion, minced garlic and sauté 5 minutes over medium heat.
Add the chopped tomato, the chicken stock and bay leaf and simmer for 15 minutes over low heat.
*****
Slice the chicken fillets in half widthwise to the other edge.
Lay down the sliced chicken fillets on a cutting board, cover it with plastic wrap and pound the chicken to 1/2 inch thickness, season with salt and pepper.
Place 3 leaves of basil on top of the chicken and place 1 slice of cheese on top of the basil leaves.
Fold the chicken fillets in half, season both sides with salt and pepper and lightly dust both side with flour. Make the other folded chickens in the same way.
Heat some olive oil in a frying-pan, sauté the chickens over medium-low heat on each side until cooked and golden.
Transfer to serving plates and pour the tomato sauce over the chickens.