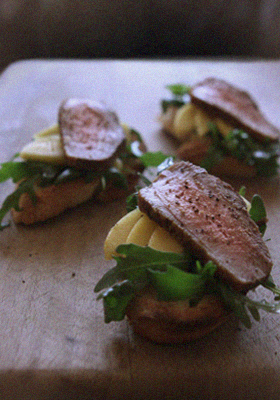 This dish is used an unusual technique of marinating meat. Marinate a duck breast in miso paste after it's cooked.
Sounds a bit strange?  But this is a quite popular duck appetizer in Japan.
Miso and honey give the cooked duck more flavour and to tenderize it at the same time. Marinate the cooked duck over night, and then you can just take it out of the fridge, slice and eat it like a ham next day.
The combination of the savoury miso flavoured duck and the sweet and sour mango is great, and I really enjoyed this new bruschetta.
——————————
— Miso Duck and Mango Bruschetta —
1/8 Mango
40g rocket
1 tablespoon olive oil
1 teaspoon balsamic vinegar
Some baguette
Some ground black pepper
*****
— for the miso marinated duck —
1 duck breast
100g miso paste
1 tablespoon honey
Some salt and pepper
——————————
To make the miso marinated duck: Mix the miso paste and honey in a small bowl, set aside.
Season the duck breast with salt and pepper.
Heat a little oil in a flying-pan, place the duck breast skin-side down over medium heat and fry for 15-20 minutes until the skin became brown and crispy
Turn the duck breast and fry for 6 minutes until browned,  then turn off the heat, cover with foil and leave the duck in the pan to rest (this will result in meat that is slightly pink in the middle)
Coat all side of the cooked duck with the miso mixture and cover with cling film, refrigerate for over night.
*****
Mix the olive oil and balsamic vinegar in a bowl, add the rocket and toss.
Peel and thinly slice the mango.
Lightly wipe off miso mixture from the marinated duck, and thinly slice.
Slice the baguette and toast them.
Topping the rocket salad, the sliced mango and the sliced duck. Sprinkle with some black pepper.