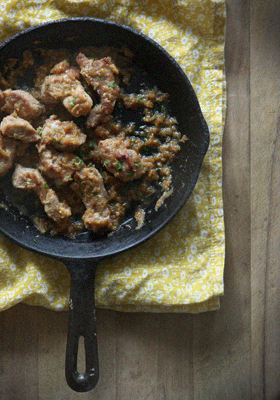 Pork and ginger go well together, "Ginger pork (pan-fried pork with ginger sauce)" is Japan's national favourite home cooking dish.
This recipe is slightly different from the traditional ginger pork recipe, but I think I prefer this version more.
Apple adds fruity flavour to the ginger sauce and makes the pork tender.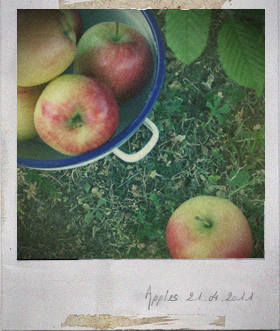 ——————————
— Pan-fried Apple Ginger Pork (serves 2) —
300g pork loin or shoulder steak
1 apple (small), grated
2 tablespoon soya sauce
2 tablespoon white wine
1 teaspoon honey
1 tablespoon ginger, grated
Some corn flour
Salt and pepper
Some vegetable oil for frying
Some chopped parsley for garnish
——————————
Place the grated apple, soya sauce, white wine and honey in a bowl and mix. Set aside.
Cut the pork steak into bite sized pieces and sprinkle with salt and peper.
Lightly dust the pork with some corn flour.
Heat some oil in a frying-pan, fry the pork over medium heat until lightly browned.
Pour the apple mixture into a frying-pan, stir and cook for 1 minutes.
Add the grated ginger and mix everything.
Sprinkle with finely chopped parsley.