I decided to make this menu when I was thinking how to use a slightly stale yesterday's baguette.
Fresh breadcrumbs are really easy to make. Put the bread in a food processor or cut the bread finely with a bread knife.
This seasoned breadcrumbs taste like garlic bread, it goes well with the macaroni cheese.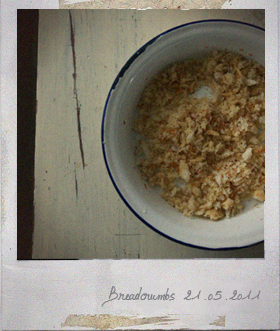 ——————————
— Macaroni Cheese Gratiné (serves 2) —
200g macaroni pasta
120ml single cream
100ml milk
100g cheddar cheese, grated
30g parmesan, finely grated
1/2 teaspoon fresh thyme, finely chopped
Some salt and black pepper
100g fresh breadcrumbs
1 clove garlic, minced
30g butter, melted
——————————
Cook the macaroni pasta in a large pan of salted boiling water until al dente (follow the package directions). Drain and return to the pan.
Add the single cream, milk, grated cheddar cheese and grated parmesan in the pan, cook and stirring over low heat for 3 minutes. Add the chopped thyme, season with a pinch of salt and pepper and transfer into a baking dish.
Place the fresh breadcrumbs, minced garlic and melted butter in a bowl, toss until well combined.
Sprinkle the breadcrumbs onto the macaroni mixture and bake in a preheated 200C/400F oven for about 7 minutes until golden and crispy.