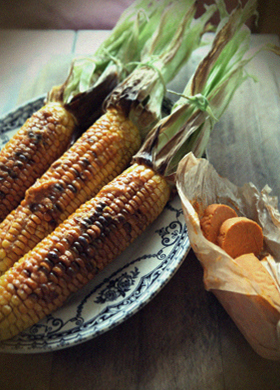 Spiky haired corn cobs dressed up in fresh and spicy butter. Looking hot.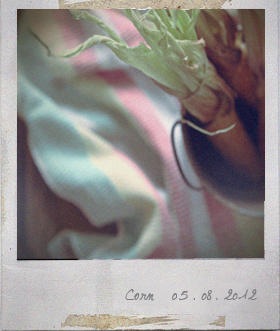 ——————————
— Grilled Corn with Lime Chilli Butter —
8 ears corn, husked
100g butter, softened
1-2 teaspoons chilli powder (adjust chili to suit your taste)
Zest of 1 lime
1 tablespoon fresh lime juice
Some salt
——————————
Place the butter, chilli powder, lime zest and fresh lime juice in a bowl. Mix until well combined.
Transfer the mixed butter on a sheet of parchment paper and mold into a log. Wrap the log with the paper and twist the ends to seal. Refrigerate until firm, at least 1 hour.
Pull back hunks from ears of corn, remove and discard silks, tie husks together with string to form a handle.
Place corn on rack of an uncovered grill directly over heat with husks hanging over the edge or away from the heat.
Grill the corn for about 15 minutes until browned, turning occasionally to cook evenly.
Sprinkle with salt and serve with the lime chilli butter.