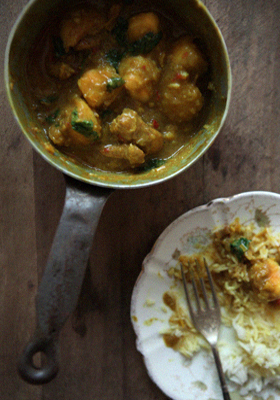 This is a traditional Vietnamese curry.
The natural sweetness of sweet potatoes and coconut milk contrast against the curry spices, giving the dish a depth of flavour.
Sweet and strong – just like the Vietnamese women who I met in the mountain.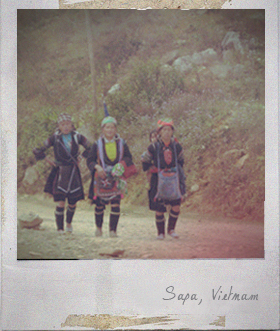 ——————————
— Vietnamese Chicken & Sweet Potato Curry (serves 2) —
2 tablespoons curry powder
1/2 tablespoon ground turmeric
250g skinless chicken thighs
1 tablespoon vegetable oil
2 shallots, finely chopped
1 tablespoon finely chopped galangal or ginger
1 stalk lemon grass, finely chopped
1- 2 teaspoons dried chilli flakes (adjust chilli to your taste)
200g sweet potatoes, peeled and cubed
2 tablespoons nuoc mam (Vietnamese fish sauce)
1/2 tablespoon palm sugar
300ml coconut milk
Hand full of fresh coriander leaves, chopped
Cooked basmati rice (for serving)
——————————
Combine the curry powder and ground turmeric in a small bowl.
Place the chicken thighs in a bowl and coat with the half of the spice. Set aside.
Heat the oil in a wok or heavy pan, stir-fry the chopped shallots, galangal and lemon grass over medium heat until fragrant.
Add the spiced chicken, the rest of spice and chilli flakes and then stir-fry about 2 minutes. Add the sweet potatoes and stir-fry another 2 minutes.
Add the nuoc mam, palm sugar, coconut milk and 50ml of water. Bring to boil, reduce the heat and simmer for 20 minutes or the chicken is tender. stirring occasionally.
Add the coriander leaves.
Serve with basmati rice.