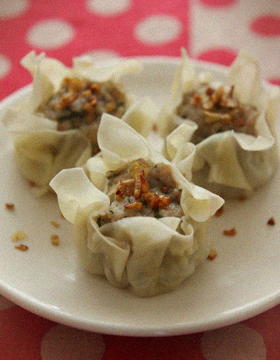 Shumai is a traditinal Chinese dumpling  and it's one of my favourite Dim Sum dish.
I added a little bit of Thai flavour into a basic pork and prawn shumai recipe and it works well.
Small but mighty dumplings.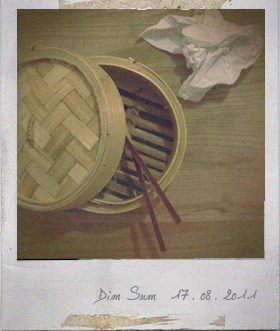 ——————————
— Steamed pork & prawn Shumai (18 dumplings) —
200g minced pork
60g raw prawns, peeled, finely chopped
50g water chestnut, finely chopped
2 tablespoons coriander leaves, finely chopped
3 tablespoons corn flour
1 tablespoon fish sauce
1/4 teaspoon ground white pepper
1 teaspoon sugar
1/2 tablespoon sesame oil
1 tablespoon ginger, minced
18 sheets won ton pastry
*****
— for garlic chips —
2 garlic cloves
3 vegetable oil
*****
— for dipping sauce —
3 tablespoons soya sauce
3 tablespoons rice vinegar
——————————
To make garlic chips: cut the garlic cloves into very thin slices. Heat the oil in a small pan over law heat and sauté the chopped garlic until golden brown. Drain the excess oil on kitchen papers.
To make dipping sauce: mix soy sauce and rice vinegar in a small bowl.
*****
Place all the dumpling ingredients except for the won ton pastry.
Mix everything until the ingredients are well combined.
Hold a wonton pastry sheet on your palm, spoon 1 tablespoon of filling mixture on to the middle of the pastry, gather up the pastry and lightly squeeze the top of edges together, leaving the top open.
Place the dumplings in a steamer. Steam over boiling water for about 10 minutes.
Sprinkle with crushed garlic chips and serve with the dipping sauce.