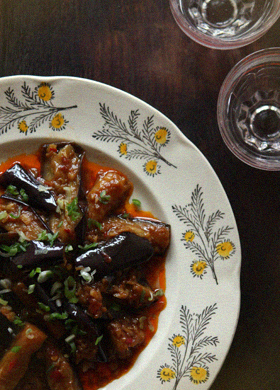 This is a popular Sichuan vegetable dish (suitable for vegan).
The spicy and bold flavour makes me feel vibrant.
Serve with plain boiled rice or noodles.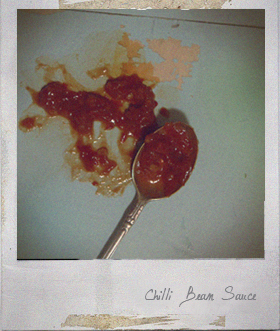 ——————————
— Sichuan Fried Aubergine (serves 2) —
400g aubergines
2 garlic cloves, finely chopped
1 tablespoon ginger, finely chopped
1 tablespoon sesame oil
2 tablespoon chilli bean sauce (available at oriental grocery store)
100ml vegetable stock
1 tablespoon light soy sauce
1/2 tablespoon rice vinegar
1 teaspoon sugar
1/2 tablespoon corn flour blended with 1 tablespoon water
Oil for deep-frying
Some spring onion for garnish, finely chopped
——————————
Cut the aubergine lengthways into 2/3 inch wide by 2 inch long strips.
Heat the deep-frying oil to 375F/180C. Deep fry the aubergine for about 3 minutes until slightly golden. Drain excess oil on kitchen papers.
Heat the sesame oil in a frying-pan, add the garlic, ginger, chilli bean sauce and stir-fry for 10 seconds. Add the deep-fried aubergine and vegetable stock and then simmer over medium heat for 3 minutes.
Add the soy sauce, rice vinegar and sugar, then add the blended corn flour and stir to thicken the sauce.
Garnish with the spring onion.