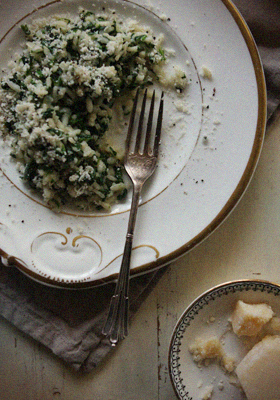 I trust the power of spinach.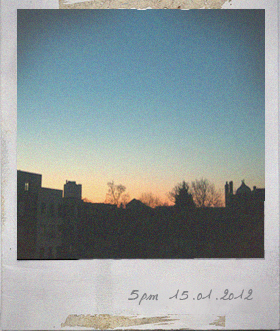 ——————————
— Spinach Risotto (serves 2) —
200g fresh spinach, washed
1/2 onion, finely chopped
1 garlic clove, finely chopped
2 tablespoons olive oil
180g arborio rice
100ml white wine
500ml chicken stock
A pinch of grated nutmeg
1/2 tablespoon butter
40g parmesan cheese, grated
Some grated parmesan cheese for garnish
Black pepper
——————————
Bring a large pot of salted water to a boil, add washed spinach and cook about 1 minute. Drain in a colander and rinse under cold water. Gather up the spinach and squeeze out excess water. Chop the spinach into small pieces. Set aside.
Heat the chicken stock in a pan and keep it gently simmering.
Heat the olive oil in a large heavy saucepan, add the chopped onion and garlic, stir-fry for about 5 minutes over a medium heat until the onion has softened.
Add the arborio rice, stirring until all of the rice is coated in the oil. Add the white wine and boil for 1 minutes.
Add the simmering chicken stock a ladleful at a time, stirring occasionally, for about 15 minutes until all the stock is absorbed. When the rice is almost ready, stir in the spinach and butter.
Remove from the heat and stir in the grated parmesan cheese and nutmeg. Season with salt, if needed.
Sprinkle with parmesan cheese and black pepper.