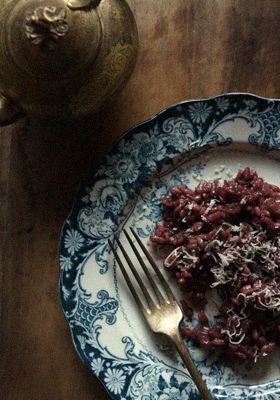 I got drunk while I was cooking this red wine risotto (added the red wine to the risotto rice and to myself too).
And, I feel already happy even before I have the lovely bordeaux coloured Sunday lunch.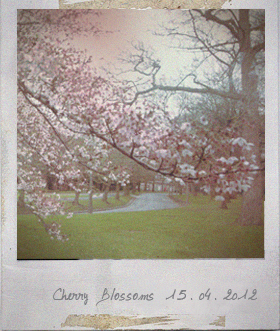 ——————————
— Red Wine Risotto (serves 2) —
50g butter
1/2 onion, finely chopped
1 clove garlic, minced
1 tablespoon fresh thyme, chopped
140g risotto rice
300ml hot chicken stock
300ml dry red wine
40g parmesan cheese, grated
——————————
Heat the butter in a large heavy-based saucepan over medium heat, add the onion and garlic and cook until softened.
Add the rice and thyme, stir for 5 minutes until the rice start to turn translucent at the edges.
Add half of the red wine, stir continuously until all the wine has been absorbed. Pour in a ladle of chicken stock, stirring continuously. When the stock has been absorbed, stir in another ladleful. Continue adding the stock in this way until all the stock has been absorbed.
Add the remaining red wine to the risotto, in the same way as the stock, stirring continuously until it has been absorbed. The rice should be al dente.
Stir in half of the grated parmesan cheese just before serving.
Sprinkle with the remaining parmesan cheese on top of the risotto.