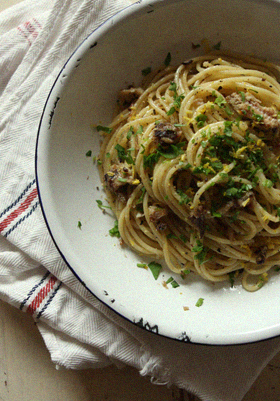 It's been a long time since my last post.
I've been too busy lately, well, no, maybe it's an excuse for being lazy…
I haven't done much cooking, and I haven't played much with my cat (sorry, Mika).
I shouldn't forget what I like to do.
——————————
— Spaghetti with Sardines & Lemon (serves 2) — 
160g spaghetti
2 tablespoons olive oil
2 clove garlic, finely chopped
1 tin sardines in olive oil
Salt and black pepper
1 lemon zest (grated)
1 tablespoon parsley, finely chopped
——————————
Add the spaghetti to lightly salted boiling water, cook until al dente (keep 2 tablespoons of pasta water).
Heat the olive oil and fry the garlic in a large frying-pan over medium heat, until the garlic becomes lightly golden. Add the sardine, sauté until sardines are golden. Season with salt and black pepper
Add the cooked spaghetti and 2 tablespoons of pasta water in the frying-pan, toss well.  Sprinkle with the grated lemon zest and chopped parsley.