Butter, cream and chocolate. The fascinating collaboration of unhealthy foods.
Umm, bad things are so tempting and delicious.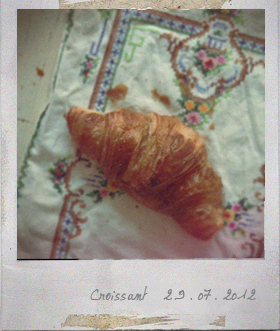 ——————————
— Chocolate Croissant Pudding Cups (serves 4)—
3 croissants
70g dark chocolate
3 eggs
50g sugar
200 ml single cream
150 ml milk
1 dash of vanilla extract
1 teaspoon sugar for sprinkle
——————————
Cut the croissants and dark chocolate into small pieces.
Mix the eggs and 50g of sugar in a large bowl, and whisk in the single cream, milk and a dash of vanilla extract.
Divide the chopped croissants and chocolate between 4 ceramic tea cups (200ml capacity per cup). Pour the cream mixture over and leave to soak for 30 minutes.
Preheat oven to 340F/170C.
Sprinkle with sugar on top of each cup (1/4 teaspoon of sugar par cup). Put the cups in a oven dish and pour in enough hot water around the cups.
Bake for 35-45 minutes until the pudding is just set and golden.
§ 2 Responses to Chocolate Croissant Pudding Cups"