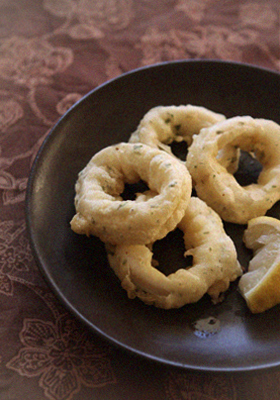 I was looking up 'rosemary', and I found that the name has Latin origin 'ros marinus' meaning 'dew of the sea'.
Pretty name!
OK, I want to use the dew of the sea to calamari, because he came from the sea.
And, it was a good idea. The rosemary brings lively flavour and note to this recipe.
——————————
— Rosemary Calamari Fritti (serves 2) —
260g calamari tubes, cleaned
5 tablespoons flour
3 tablespoons corn flour
1/2 teaspoon baking powder
50ml water
1 egg, beaten
1 teaspoon fresh rosemary, very finely chopped
A pinch of salt and pepper
Lemon wedges for serving
Oil for deep-frying
——————————
Rinse the calamari tubes under water and pat dry with paper towels.
Cut the calamari tubes into 1/2 inch rings.
Heat the deep-frying oil to 170C/340F.
Mix well the flour, corn flour and baking powder in a large bowl. Add the beaten egg, 50ml water, very finely chopped fresh rosemary, salt and pepper into the bowl and mix everything together.
Toss the squid rings into the flour mixture to coat, and deep-fry the coated calamari rings until pale golden. Drain on kitchen paper.
Serve with the lemon wedges.