This chips are so delicious. Good things take time, but they are worth it.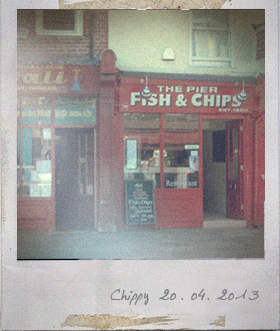 ——————————
— Double Cooked Chips (serves 4) —
800g floury potatoes (such as maris piper or king edward)
2 litres groundnut oil or sunflower oil for deep-frying
Flaked sea salt
Your favourite dipping sauce
——————————
Cut the potatoes lengthways  into 1cm thick chips, rinse well under cold water for 10 minutes and then drain.
Put the chips into a large pan of cold and lightly salted water, bring to the boil. Turn down the heat and simmer for about 5 minutes until just soft to the point of knife.
Drain and pat dry with kitchen papers. Lay the chips on a tray lined with kitchen papers and allow them to cool. Put them in the fridge until cold.
In the heavy-based saucepan, heat the oil to 130C, and add the chips. Don't over crowed the pan. Fry chips for about 10 minutes until cook through but not over cooked.
Remove, drain, pat dry and refrigerate the chips until cold.
Heat the oil to 180C and add the chips. Cook until crisp and golden. Drain and sprinkle with sea salt.