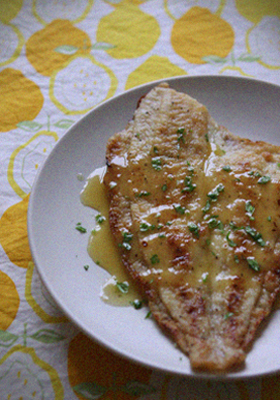 Lemon sauce & Lemon sole & Lemon cloth.
Triple Lemons, and I feel refresh.
A little spoon of honey add a touch of sweetness to the lemon sauce but still allows the fresh lemon flavour. Delicious sauce for white fish.
——————————
— Lemon Sauce Lemon Sole (serves 2) —
2 fillets lemon sole
A pinch of salt and pepper
Some flour
Some vegetable oil for flying
Some parsley for garnish, finely chopped
*****
– for the lemon sauce –
1 tablespoon fresh lemon juice
1/2 teaspoon grated lemon zest
2 tablespoons butter
1 teaspoon honey
3 tablespoons white wine
1 teaspoon chicken stock powder
——————————
Sprinkle the lemon sole fillets with a pinch of salt and pepper. Lightly dust each side with flour.
Heat some oil in a frying-pan, sauté the lemon sole fillets over medium-high heat on each side until golden.
Transfer to serving plates and keep them warm while making the lemon sauce.
Melt the butter on a pan, add the white wine, increase heat to high and bring to boil.
Add the chicken stock and honey, stir until completely blended over medium heat.
Remove the pan from heat, add the lemon juice and grated lemon zest and stir everything well.
pour the lemon sauce over the sautéed lemon sole and sprinkle with the chopped parsley.