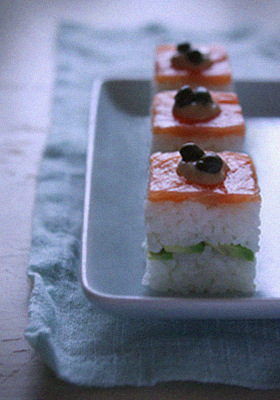 Sushi is the most famous and popular Japanese dish in the West.
But it's not popular to cook sushi at home.
Maybe because,
1. Don't know how to cook sushi rice.
2. A bit scary to deal with raw fish.
3. Can't be bothered to roll up rice.
OK, here is the solution; Box Sushi. Ta-dah!
You can make this pretty sushi without special technics.
It just needs a box, a chocolate box or a biscuit box or any kind of box. And then place ingredients in the box, press them and cut like mini cakes.
This is a great home party dish.
——————————
— Box Sushi (box size approx. 7 inch x 4.5 inch, hight 1.5 inch, serves 4) —
200g smoked salmon slices
1 avocado, thinly sliced
some cappers
*****
– for sushi rice –
400g rice (Japanese short-grained white rice, or sushi rice)
5 tablespoons rice vinegar
3 tablespoons sugar
2 teaspoons salt
*****
– for soya sauce cream sauce –
3 teaspoons soya sauce
3 tablespoons mayonnaise
——————————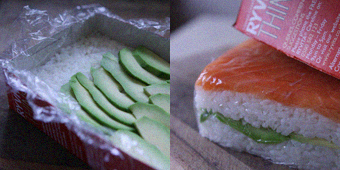 To make sushi rice, rinse the rice in a clod water, changing the water several times until the water runs almost clear.
Drain the washed rice in a sieve and place in a saucepan.
Pour 500ml water in the pan and cover with tight-fitting rid.
Bring to the boil over high heat and let cook for 2 minutes.
Reduce the heat to the lowest and simmer (always cover the pan with a rid) 15 minutes.
Remove from the heat, still covered, and leave the pan for another 10 minutes.
Transfer the cooked rice into a large bowl.
Mix the rice vinegar, sugar and salt in a small bowl, and sprinkle evenly over the rice, mix the vinegar mixture and rice (do not mush when you mix the rice).
*****
To make soya sauce cream sauce, mix the soya sauce and mayonnaise in a small bowl.
*****
Line the box with a large piece of cling film (should overlap the edges)
Lay the smoked salmon slices on the bottom of the box.
Spread half sushi rice on top of the salmon, press the rice with fingers (the rice is sticky, you need to wet you hands).
Lay the thinly sliced avocado on the sushi rice and spread the remaining sushi rice on it, press the rice with fingers.
Cover the top of rice with cling film and place a hard board (cut to fit inside of the box), and put a weight (book or something) on the board and leave it 1-2 hours.
When serving, turn the box and carefully remove the sushi out onto a chopping board and cut into square blocks with a wet knife.
Garnish with the soya sauce cream sauce and cappers.
§ 4 Responses to Box Sushi"