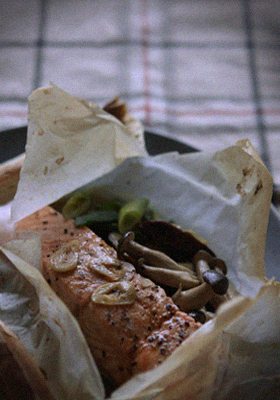 This is an excellent method of cooking a salmon fillet.
Slowly steam the salmon with sake in a paper is that keeps the salmon soft and very juicy, and all the flavour of ingredients are retained inside a paper package.
Also, it's easy to clean up!
——————————
— Paper Wrapped Salmon Fillet (serves 1 package) —
1 baking paper sheet (approximately 15 inch x 15 inch)
1 piece (150g) salmon fillet
20g spring onion
40g shimeji mushrooms or shiitake mushrooms (Shimeji mushrooms: base discarded, mushrooms separated. Shiitake mushrooms: sliced)
15g butter
1 tablespoon sake (rice wine)
1/2 garlic clove
1/4 teaspoon salt
A pinch of black pepper
1/2 tablespoon soya sauce
——————————
Slice the garlic very thin, chop the spring onion diagonally.
Season the salmon fillet with the salt and the pepper, and place on a baking paper sheet.
Place the mushrooms, chopped spring onion in the side of the salmon, put the butter and sliced garlic on the top of salmon, sprinkle the sake.
Pull the paper edges together, folding edges tightly to make a paper bag. Make sure that there is space inside the paper for the hot air to steam the salmon.
Preheat oven to 180C/350F, place the paper package in a baking tray and bake in the middle of oven for about 20 minutes.
Cut cross on the top of the wrapped paper to open.
Drizzle the soya sauce and serve.