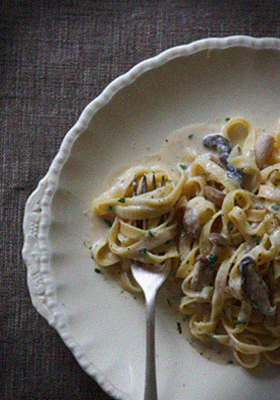 This is a unique, creamy low-fat pasta dish and it's suitable for vegans.
Soya milk and miso (fermented soya bean paste) go well together, because they are made from same ingredient. And a spoon of miso paste brings a great savory and richness to the sauce.
——————————
— Miso & Soya Milk Pasta with Mushrooms (serves 2) —
160g shiitake mushroom & shimeji mushrooms (Shiitake mushrooms: sliced. Shimeji mushrooms: base discarded, mushrooms separated. )
1/2 tablespoon parsley, finely chopped
200g tagliatelle
1 tablespoon miso paste
300 ml soya milk
2 tablespoons white wine
1 clove garlic, finely chopped
1 tablespoon olive oil
——————————
Cook the tagliatelle as directed on the package. Drain and set aside.
Heat the olive oil in a flying-pan over medium heat, add the garlic and mushrooms and fry for 3-4 minutes.
Add the white wine into the flying-pan, bring to a boil over high heat.
Turn the heat to low, pour in the soya milk and heat until piping hot. Add the miso paste and stir until the miso is melted.
Add the cooked tagliatelle and chopped parsley into the flying-pan, tossing everything together.