Light up Japan recipe –No.5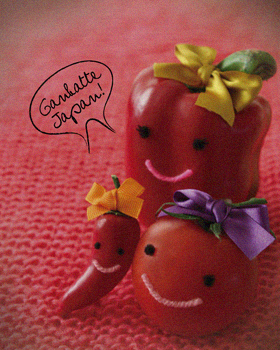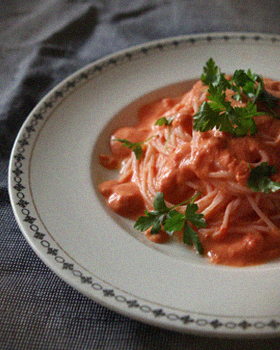 You know, red coloured foods make you feel lively.
This red sauce is made with full of red coloured ingredients, tahini and lemon juice. It has a refreshing taste, also the tahini brings nutty and rich flavour.
Rice vermicelli noodles takes only few minutes to soak in a hot water to cook, it's a great energy-saving ingredient.
Full of red foods and full of pep.
——————————
— Chilled Rice Noodles with Red Sauce (serves 2) —
200g rice vermicelli noodles (dried)
Some Italian parsley, chopped
*****
— Red sauce —
2 tomatoes
1 red pepper
1/2 red chilli (medium hot)
1 fresh squeezed lemon
2 tablespoons tahini
1 tablespoon honey
1 tablespoon sesame oil
1 clove garlic
1 teaspoon salt
——————————
Soak the rice vermicelli noodles in hot water (follow the package directions). Rice well under cold water and drain well.
Place all the Red sauce ingredients into a blender and blend until smooth.
Mix the noodles and the red sauce in a bowl.
Garnish with chopped Italian parsley.