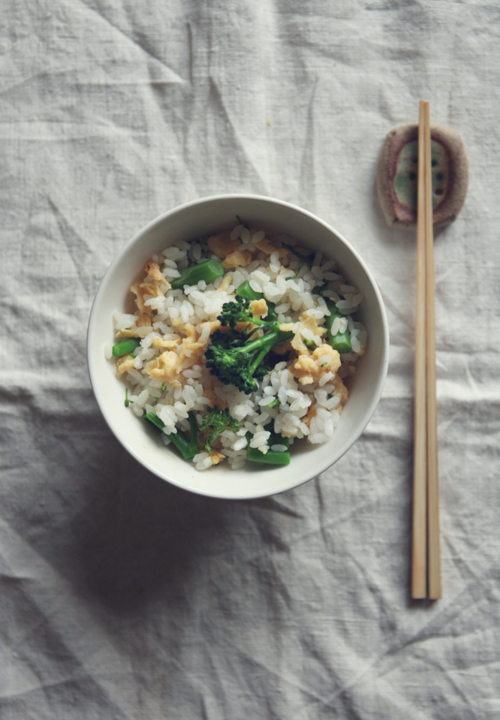 This is a spring dish.
It looks like the yellow flowers of tenderstem broccoli are blooming in a bowl.
I hope spring is coming soon.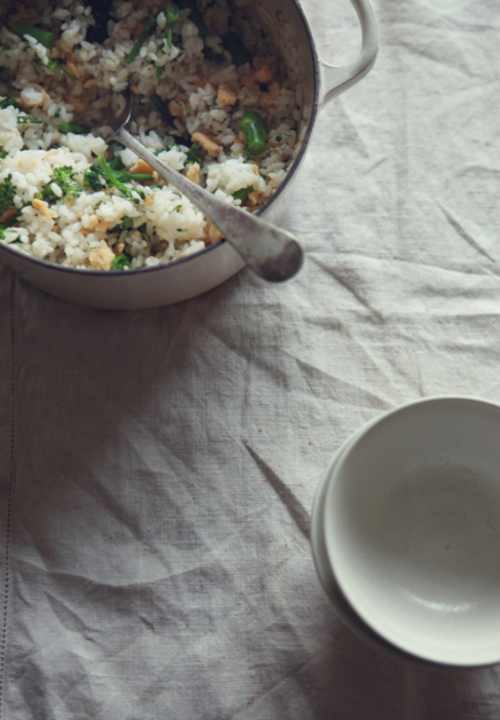 ——————————
— Tenderstem Broccoli and Egg Rice (serves 2-3) —
300g rice (Japanese short grain white rice, or sushi rice)
400ml water
2 tablespoons sake (rice wine)
1/2 teaspoon sea salt
10cm square kombu
100g tenderstem broccoli
1 tablespoon light soy sauce
2 eggs
A pinch of salt
——————————
Rinse the rice in a clod water, changing the water several times until the water runs almost clear.
Drain the washed rice in a sieve and place in a saucepan.
Add the water, sake and 1/2 teaspoon of salt in the pan, place the kombu on top of the rice and cover with tight-fitting lid.
Bring to the boil over high heat and let cook for 2 minute. Reduce the heat to the lowest and simmer (always cover the pan with a lid) for 15 minute. Remove from the heat, still covered, and leave the pan for another 10 minutes.
Bring a pot of water to boil and add a pinch of salt. Cook the tenderstem broccoli until soft but still crunchy (about 30 seconds – 1 minute), rinse in cold water, drain and squeeze excess water. Cut the tenderstem broccoli into 0.8 inch, toss with the light soy sauce.
Beat the eggs in a bowl and add a pinch of salt. Heat a frying-pan, pour the eggs and stir continuously until they form finer scrambled eggs.
Add the tenderstem broccoli and scrambled eggs in to the cooked rice, mix everything together gently.