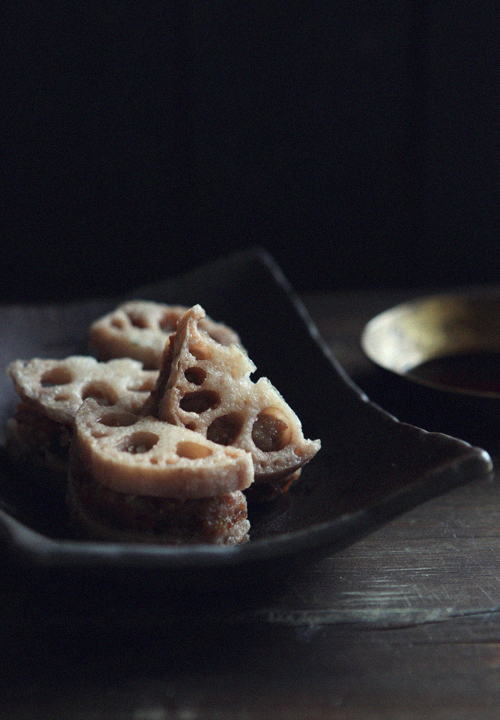 Lotus is not just a beautiful floating flower, the root has been used for centuries as a staple vegetable in East Asian cooking. It has a crunchy texture like water chestnut and a delicate flavour, also it's rich in important vitamins and minerals.
Deep-fried lotus root sandwich is a typical Japanese home-style dish, my mum often made it when I was a kid and I loved it.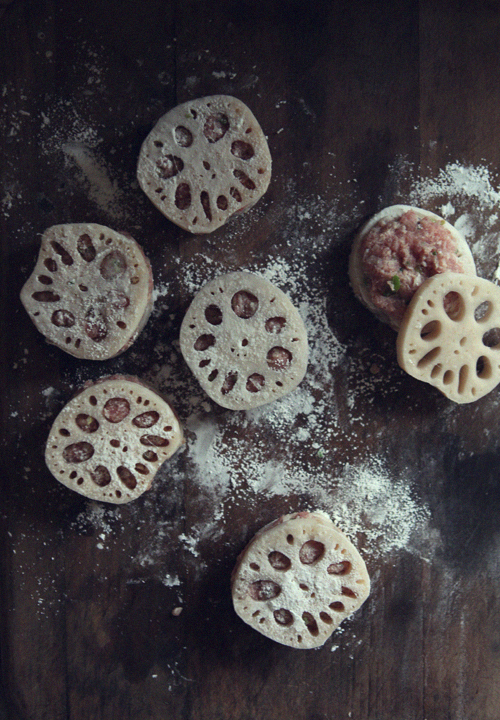 ——————————
— Deep-Fried Lotus Root Pork Sandwiches (serves 2-3) —
400g lotus roots
A dash of vinegar
200g minced pork
1 spring onion, finely chopped
1 teaspoon grated ginger
1 teaspoon sake (rice wine)
1 tablespoon cornflour
1/2 teaspoon salt
A pinch of black pepper
Some cornflour for dusting
Vegetable oil for deep frying
Soy sauce for dipping
——————————
Peel and slice the lotus root into 1/4 inch slices and soak them in a large bowl of water with a dash of vinegar for 5 minutes.
Drain the lotus root and pat dry with kitchen paper, lightly dust with cornflour on both sides
Place the pork mince, spring onion, grated ginger, sake, 1 tablespoon of cornflour, salt and pepper in a bowl. Mix well with hands until the mixture becomes sticky.
Place about a tablespoon of the pork mixture on a slice of the routs root and put another slice on top. Press down to make a sandwich.
Heat the oil to 340F/170C. Deep fry them until slightly coloured and cooked through. Place on kitchen paper to drain excess oil.
Serve with soy sauce for dipping.