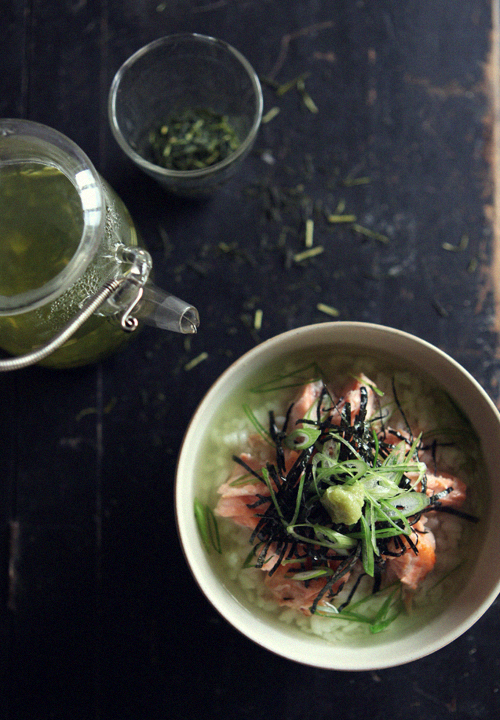 Ochazuke is a simple and easy Japanese dish. Pouring hot tea over cooked rice, roughly in the same proportion as milk over cereal, and topped with savoury toppings. It's popular as a light meal or after-drinking snack in Japan.
In the olden days in Kyoto, when a host asks if you want to eat ochazuke, it means you have overstayed their welcome and it being politely asked to leave.
But don't worry, it's the custom of the past. If you are offered ochazuke in Kyoto now, then just enjoy :)
——————————
— Salmon Ochazuke (serves 2) —
1 piece salmon fillet
Sea salt
1 tablespoon vegetable oil
1 cup cooked short grain white rice
2 cups Japanese green tea
1/2 sheet nori, finely shredded with kitchen scissors
1/2 spring onion, finely sliced
Wasabi paste
——————————
Rub the salmon fillet with a generous amount of sea salt.
Heat the vegetable oil in a frying-pan, cook the salmon on both sides over a medium heat until cooked through. Break the salmon into chunks.
Place the cooked rice in a bow, top with the salmon, nori, spring onion and a little wasabi paste.
Pour hot green tea over the rice.