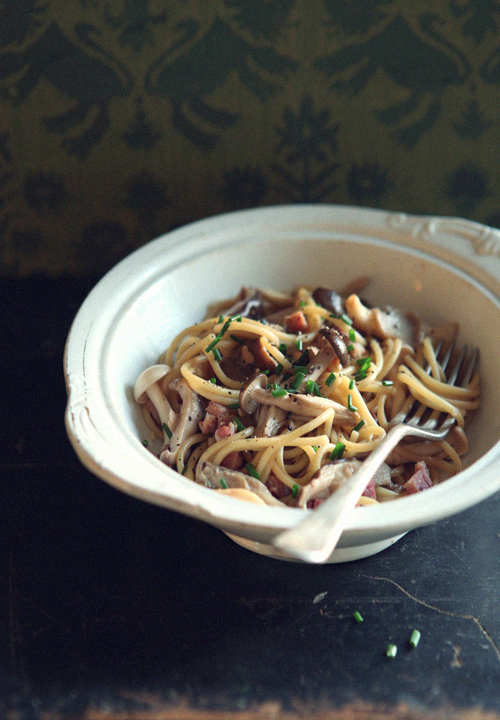 Italian food, especially pasta is hugely popular in Japan, and we create large numbers of 'Wafu-Pasta' ('wafu' means 'Japanese-style').
'Wafu-Pasta' is Italian pasta prepared with Japanese ingredients and flavours. And this is one of my favourite Wafu-pasta.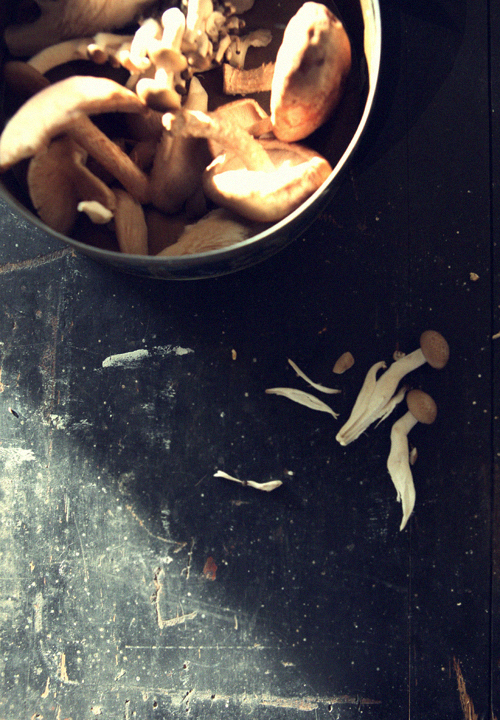 ——————————
— Spaghetti with Mushrooms and Soy Sauce (serves 2) —
200g mixed exotic mushrooms (shiitake mushrooms, shimeji mushrooms, oyster mushrooms)
180g spaghetti
1 tablespoon olive oil
120g lardons
1 clove garlic, minced
1 tablespoon sake (rice wine)
1 tablespoon soy source
1 tablespoon butter
Some chives, chopped
Black pepper
——————————
Trim off the bottom of the mushroom stems. Make the mushrooms into bite sized pieces (slice the shiitake mushrooms, separate the shimeji mushrooms and tear the oyster mushrooms).
Heat the olive oil in a frying pan over a medium heat, fry the lardons until golden. Add the garlic, fry for a further 1 minutes.
Add the mushrooms, sauté for 2 minutes, or until softened and pour the sake and cook for a further 1 minutes.
Meanwhile, cook the spaghetti in plenty of lightly salted boiling water until al dente (follow the package directions).
Add the cooked spaghetti to the frying pan, add the soy sauce and butter, toss everything together.
Garnish with chopped chives and sprinkle with freshly ground black pepper.