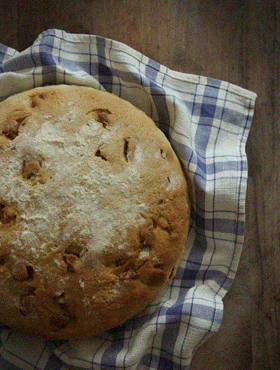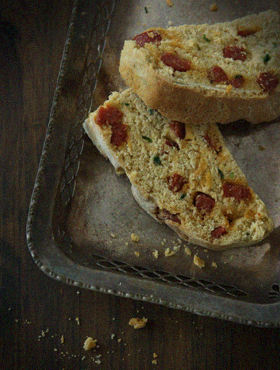 Broa is a Portuguese style corn bread. Thick and crackly crusts with a soft and dense interior.
I love this rustic loaf, and I added chorizo and chives in the dough this time. The chorizo gives a nice spicy kick, this savory bread is the perfect dish for a picnic.
I'm not a morning person, but I feel great to wake up a couple of hours earlier and make a fresh loaf in the morning if the weather is beautiful and sunny like today.
Happy Easter!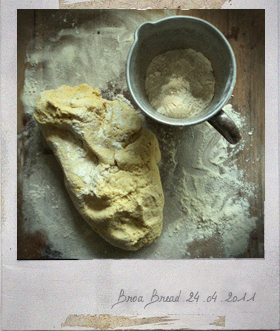 ——————————
— Chorizo & Chive Broa Bread —
400g plain flour
200g cornmeal
2 teaspoons easy dry yeast
1 teaspoon salt
200g chorizo
10g chives
Some flour for dusting work surface
——————————
Place the flour, cornmeal, easy dry yeast and salt in a large bowl and stir together, mix in 350ml lukewarm water.
Transfer the dough to a floured surface board and knead for about 10 minutes, cover the dough with cling film and let rise for 40 minutes in a warm place.
Punch down and knead the dough on a flour surface board about 10 minuets.
Chop the chorizo and chives into small pieces, add to the dough.
Shape the dough to a round loaf and place on a floured baking sheet, and dust the top of the loaf with flour as well.
Cover the loaf and let rise for a further 40 minutes.
Hear the oven to 220C/425F.
Place on oven-proof dish of boiling water in the oven (take the dish of the boiling water out after 15 minutes), bake the loaf for about 30-40 minutes until golden.
§ One Response to Chorizo & Chive Broa Bread