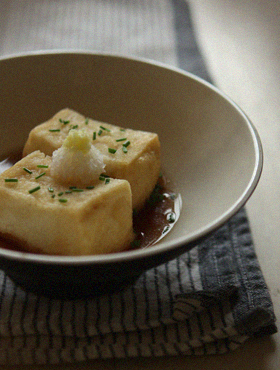 This is a very traditional and popular Japanese dish. Deep-fried tofu with dashi-based sauce.
Dashi means 'Japanese soup stock', and it's the most important element of the authentic Japanese taste and many Japanese dishes include dashi.
Classic dashi is made using dried kelp and dried bonito flakes, and it's not difficult to make, but I guess it quite difficult to get right ingredients for dashi in the UK.
Ummm, let's take it easy, and get instant dashi powder this time! (I'll write how to make authentic dashi another day)
Instant dashi powder is available in most oriental grocery shops, and if you are vegan "konbu dashi" is also available (konbu means kelp seaweed).
Usually, 1 teaspoon of dashi powder is used for 2-3 cups (400ml to 600ml) of hot water.
So, if you know what is dashi, then you can make miso soups and so many kind of Japanese dishes.
Itadakimasu ("bon appetit" in Japanese).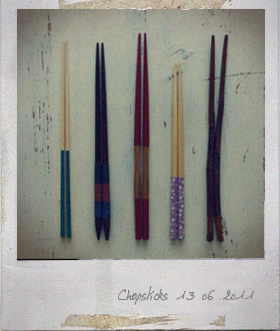 ——————————
— Agedashi Tofu (serves 2) —
1 pack of medium firm tofu (about 300g)
2 tablespoons corn flour
Oil for frying
Some chives, finely chopped
Some ginger, grated
Some mooli (daikon) radish, grated
*****
— for the sauce —
100ml dashi
2 tablespoons soya sauce
2 tablespoons mirin* (*sweet cooking alcohol; available in oriental grocery shops)
——————————
Wrap the tofu in a clean tea towel or some layer of kitchen papers, and place a heavy thing (such as a pan) on top of it to force out excess water, then leave it for about 20 minutes.
To make the sauce: place the dashi, soya sauce, mirin in a small pan and heat gently. Keep the sauce warm until ready to serve.
Cut the tofu into 6 even blocks and coat them with the corn flour.
Heat the oil to 340F, and deep-fry the tofu until light golden, place it on kitchen paper to remove excess oil.
Place the deep fried tofu on a plate and pour the sauce over and garnish with finely chopped chives, grated mooli radish and grated ginger.
§ 6 Responses to Agedashi Tofu"