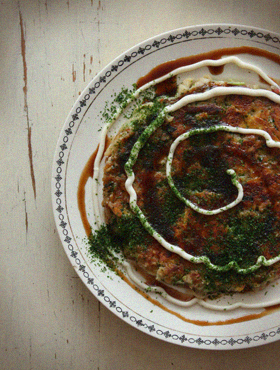 Okonomiyaki is a very popular Japanese savory pancake.
The name "Okonomiyaki" means "cook what/as you like". The base ingredients are usually flour-batter and cabbage, then your favourite toppings (meat, seafood and vegetable etc.) are blended into the batter. I chose vegetables and cheese for my Okonomiyaki this time.
It's a hot summer day in London today, almost too hot for me, my head is spinning around, and the sauces are spinning around on Okonomiyaki too.
Spinning around round round.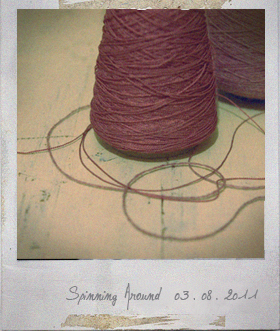 ——————————
— Okonomiyaki (serves 4) —
— for the batter —
150g plain flour
1 teaspoon baking powder
200ml dashi stock (about dashi, vegetarian dashi)
50g yam, peeled and grinded (option)
*****
4 eggs
700g cabbage
100g spring onion
8 dried shiitake mushrooms
4 tablespoons red pickled ginger (beni-shoga)
100g cheddar cheese
Vegetable oil for frying
*****
— for the sauce —
*Okonomiyaki-sauce is available at Japanese grocery store, or you can make the similar sauce; mix the following ingredients
4 tablespoons brown sauce
1 tablespoons soy sauce
1 tablespoon ketchup
1 tablespoon brown sugar
*****
Some mayonnaise
Some green nori-seaweed sprinkle (aonori)
——————————
Mix the flour, baking powder, the dashi stock and grinded yam in a bowl. Cover with cling film and rest the batter for at least 1 hour in the fridge.
Meanwhile, prepare the toppings; soak the dried shiitake mushrooms for 15 minutes into warm water, remove stems and chop into finely. Cut the cabbage into 0.2 inch pieces, finely chop the spring onion and finely chop the red pickled ginger and cut the cheddar cheese into 0.3 inch cubes.
To make 1 set of okonomiyaki, place 1/4 amount of the batter in another bowl, add 1/4 amount of the chopped cabbage, spring onion, shiitake mushroom, red pickled ginger, cheddar cheese and 1 egg. Stir and mix everything together.
Heat the oil in a frying-pan over medium-low heat, pour the batter in the pan and make a round shape, around 0.8 inch thick.
Cook for around 5-7 minutes, carefully flip over and cook on the other side for a further 5-7 minutes.
Transfer the okonomiyaki onto a plate, pour the okonomiyaki-sauce and mayonnaise, sprinkle green nori-seaweed over the sauce.