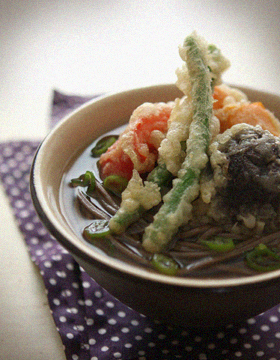 This is also a very traditional Japanese dish and it's suitable for vegans.
You can make dashi stock from dried shiitake mushrooms too. It's very easy to make; just soak them in lukewarm water for an hour, and then, here is the umami-rich dashi stock.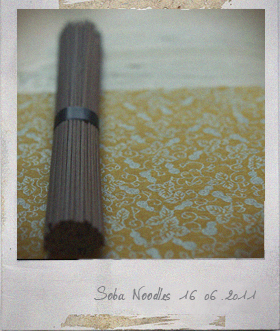 ——————————
— Soba Noodles with Vegetable Tempra (serves 4) —
400g soba noodles
Some spring onion, finely chopped
Vegetable oil for deep-frying
*****
— for noodle soup —
6-7 dried shiitake mushrooms
1200ml lukewarm water
50ml soya sauce
50ml mirin
*****
— for vegetable tempra —
90g plain flour
1 teaspoon baking powder
150ml water
2 ice cubes
4 shiitake mushrooms, stemmed
100g red pepperr
100g butter nut squash
8 fine beans
——————————
— to make noodle soup —
Shiitake soup stock: Place the dried shiitake mushrooms in the lukewarm water, leave for 1 hour at least, strain with a fine meshed sieve (if you don't have a time, boil the dried shiitake mushrooms once and leave for 10 minutes).
Place the shiitake soup stock, soya sauce and mirin in a pan and bring to the boil, turn down the heat to low and  simmer the noodle soup about 2 minutes.
*****
— to make vegetable tempra —
Heat the oil in a deep pan to 340F.
Cut the red pepper and butter nut squash into bite-sized slices.
Combine the flout and baking powder in a bowl.
Place 150ml water and 2 ice cubes in another bowl, add the flour mixture, mix together very lightly with chopsticks.
Lightly dip ingredients in the butter and immediately deep-fry them until crisp.
Drain excess oil on kitchen papers.
*****
Cook the soba noodles in a large pot of boiling water until cooked (follow the package directions) and drain.
Place the cooked soba noodles in a deep bowl, sprinkle chopped spring onion, pour in the hot noodle soup, arrange the vegetable tempra on top.
§ 2 Responses to Soba Noodles with Vegetable Tempra"