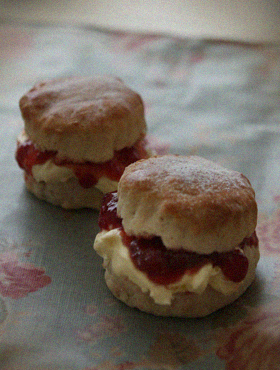 London gets ready for the Royal Wedding and The Union Jack flags are hanging everywhere in town.
I think, that's the reason why I wanted to make a very British dish today.
Cream tea.
This is such a lovely afternoon treat : )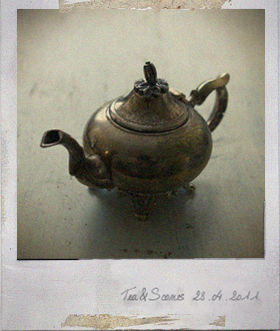 ——————————
— Classic Scones with Cream and Jam (makes 10 scones) —
220g plain flour
1 teaspoon baking powder
1 teaspoon sugar
1/4 teaspoon salt
50g butter
150g plain yogurt
1 egg york, beaten
Some icing sugar (option)
Clotted cream
Strawberry jam
——————————
Preheat the oven to 200C/400F.
Place the flour, baking powder, sugar and salt in a bowl and mix well and lightly rub in the butter.
Add the yogurt into the flour mixture to make the dough soft and easy to knead.
Transfer the dough to a floured surface board, put the dough out to thickness of about 2cm/3/4inch, cut out the scones with 5cm/2inch round cutter and place on a baking sheet.
Brush the top of the scones with the beaten egg.
Bake for about 15 minutes until well risen and golden.
Cool on a wire rack and dust with the icing sugar, serve with some clotted cream and strawberry jam.