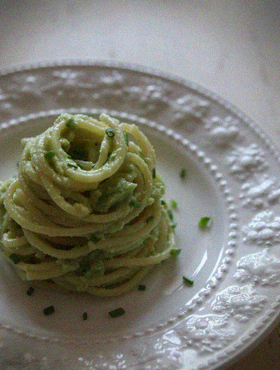 This is a chilled pasta with very rich and creamy wasabi-hinted avocado sauce.
If you enjoy a little kick of wasabi, then this appetizer is for you.
I love the unique flavor and hotness of Wasabi. But I hated it when I was a child. I don't remember how and when I started liking it. The same thing happened to black coffee, beer and Marmite.
I want to know where is the 'hate' to 'love' switch and how to operate it.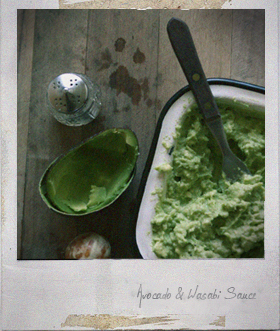 ——————————
— Pasta Salad with Avocado & Wasabi (Appetizer: serves 4) —
200g pasta
2 medium ripe avocados
1 teaspoon (adjust to you taste) wasabi paste
1 clove garlic, minced
1 tablespoon fresh lemon juice
1 table spoon mayonnaise
1 tablespoon walnut oil
1/2 teaspoon salt
A pinch of black pepper
Some chives, finely chopped
——————————
Cook the pasta in a large pan of salted boiling water until cooked (follow the package directions). Drain and rinse well under cold water.
Peel the avocados, remove the stones and mash with a fork fairly smooth in a bowl. Add the wasabi, minced garlic, lemon juice, mayonnaise, walnut oil, salt and pepper, mix together well.
Drain the cold pasta, toss with the avocado sauce.
Sprinkle with the chopped chives.