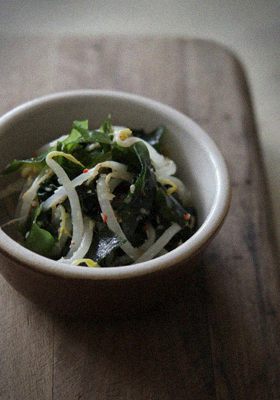 Christmas is coming. It's a time to keep eating.
I can kind of understand how the feeling of foie gras goose at this time of the year. But how can I resist a beautiful christmas pudding with brandy butter in front of me?
So, I made super healthy dish for my stomach tonight and prepare for the Christmas dinner.
This Korean origin "Sesame & Garlic" seasoning goes well with many kind of vegetables. I picked up Wake seaweed and bean sprouts today's recipe. Because Wakeme is amazingly healthy ingredient. It's very low-calorie, rich in vitamins & minerals (cleanse the blood) and has a high iodine content which is great for controlling metabolism. The effectiveness of this iodine is doubled when the seaweed is eaten with oil.
——————————
— Seasoned Wakame & Bean Sprouts (Serves 2 : side dish) —
3 tablespoons dried wakame seaweed flakes
150g bean sprouts
1 tablespoon sesame seeds
1 clove garlic, peeled
2 tablespoons sesame oil
1/4 teaspoon salt
1/2 small chili, very finely chopped
——————————
Soak the wakame flakes as it directed on the package. Drain rehydrated wakame flakes and set aside.
Add the bean sprouts for a large pan of slightly salted boiling water, cook 30 seconds. Drain the boiled bean sprouts in a colander, cool down and set aside.
Place the garlic, sesame seeds and sesame oil in a mortar, crush and pound them.
Place the wakame, the bean sprouts and the seasoning (in the mortar) in a bowl then add the salt and chili.
Mix everything well in a bowl and serve in a small plate.