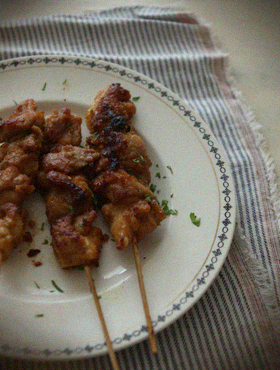 I love street food.
Especially when I visit new countries and towns.
It's one of the best way to see the real local culture. I love sitting on a wobbly plastic chair, feeling the new fresh air, choosing a dish which I've never seen before. It's a nice little adventure.
This recipe is Indonesian satay style. I remember the smily and hard working people at food stalls in Indonesia when I eat it.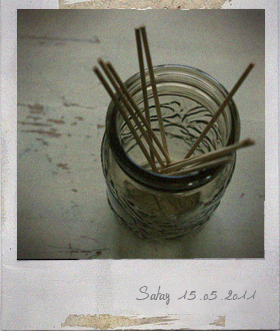 ——————————
— Peanut Chicken Satay (serves 4) —
5-6 chicken thighs, boned and skinned
Some coriander, chopped (for garnish)
*****
— for marinade —
4 tablespoons peanuts butter
1 clove garlic, minced
1/2 teaspoon coriander, finely chopped
1/2 teaspoon lemongrass, finely chopped
1/2 tablespoon curry powder
1/2 tablespoon honey
1 tablespoon fish sauce (Nam pla)
4 tablespoons coconuts milk
1/2 tablespoon ketchup
1/2 tablespoon soya sauce
1 tablespoon vegetable oil
——————————
Cut the chicken into bite size.
Mix all the marinade ingredient in a bowl, add the chicken and coat well all over. Cover and let it marinate in the fridge for at least 3 hours or overnight.
Thread the chicken onto soaked bamboo skewers and grill for 4-5 minutes each side until cooked through.
Sprinkle with the chopped coriander.
§ 2 Responses to Peanut Chicken Satay"