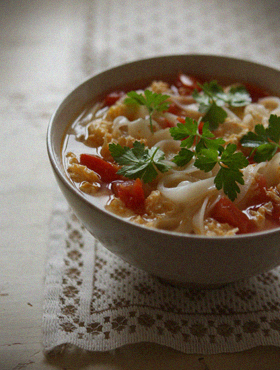 This is very simple but flavoursome soup noodle recipe.
Tomatoes and crab meat provide natural umami flavour into the soup.
Quick and easy to make, healthy and filling. It's a great light supper dish.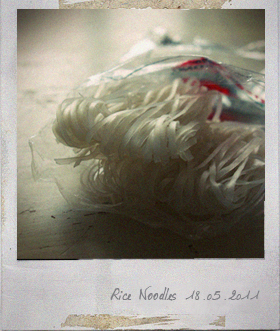 ——————————
— Crab & Tomato Noodle Soup (Serves 2) —
200g dried rice noodles
2 tomatoes
1 canned crab meat
1 egg
600ml water
1&1/2 tablespoon fish sauce (nouc mam)
A pinch of black pepper
Some vegetable oil
Some coriander (for garnish)
——————————
Cook the rice noodles (follow the package directions), drain and set aside.
Heat some oil in a flying-pan, fry the drained canned crab meat for 1 minutes, transfer to a bowl and allow to cool. Add the egg and beat together.
Cut the tomatoes into small cubes. Heat some oil in a medium sauce pan, fry the tomatoes few minutes and add 600ml water, bring to the boil. Add the fish sauce and season with the black pepper.
Pour the egg mixture into the boiling broth, stirring slowly.
Place the cooked rice noodles in a bowl and pour over the broth. Garnish with some coriander.