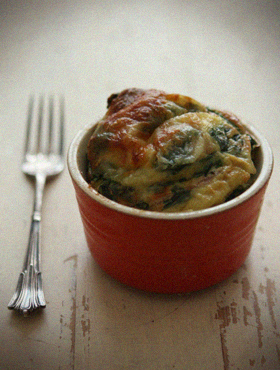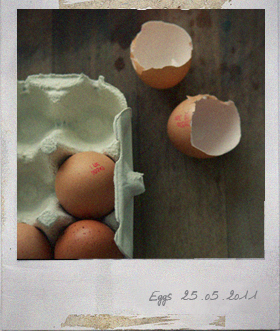 ——————————
— Spinach & Bacon Soufflé (serves 2) —
4 egg yolks
4 egg whites
100g spinach leaves
80g smoked bacon
50ml single cream
2 tablespoons parmesan cheese, grated
2 pieces of mozzarella cheese (30g each)
1/8 teaspoon salt
A pinch of ground nutmeg
Some olive oil (for frying)
——————————
Cut the bacon into small pieces.
Heat some olive oil in a frying-pan over medium-high heat, fry the bacon until crispy. Add the spinach leaves into the frying-pan and stir fry about 30 seconds. Set aside.
Place the egg yolks, single cream, parmesan cheese in a large bowl and mix together until well combined. Season with the salt and nutmeg.
Beat the egg whites in another bowl until they form medium to firm peak, gently fold the egg white into yolk mixture.
Divide the bacon and spinach into 2 x 1cup ovenproof dishes and top with the egg mixture and mozzarella cheese.
Bake in a preheated 200C/400F oven for about 25 minutes until golden.